Opera: new works performed by Bicycle Opera, Tues July 15 at 7:30
Tuesday July 15, at 7:30 pm, a special concert, $20. Book tickets: https://www.eventbrite.ca/e/the-bicycle-opera-project-hamilton-on-tickets-11887887993
Back again at Artword Artbar on this year's tour, the fabulous Bicycle Opera! This exciting season brings together a cast of young emerging opera stars, instrumentalists, and a program of fantastic Canadian opera works: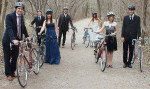 Bianchi: A Five Minute Bicycle Opera – Libretto and music by Tobin Stokes
(What rhymes with) Azimuth? – Libretto by Liza Balkan, music by Ivan Barbotin
A little rain must fall – Libretto by David Yee, music by Chris Thornborrow
L'homme et le ciel (excerpt) – Libretto by Ian Koiter, music by Adam Scime
Airline Icarus (excerpt) – Libretto by Anton Piatigorsky, music by Brian Current
Rosa – Libretto by Camyar Chai, music by James Rolfe
The Brothers Grimm (excerpt) – Libretto and music by Dean Burry
The performers on the 2014 tour are: Larissa Koniuk – soprano and Artistic Director; Stephanie Tritchew – mezzo; Christopher Enns – tenor; Geoffrey Sirett – baritone; Wesley Shen – music director/piano; Chelsea Shanoff – saxophone; Tristan Durie – flute. The stage director is Liza Balkan. http://bicycleopera.com/
The Bicycle Opera Project brings Canadian contemporary opera to communities across Ontario by bicycle!We bring Canadian music to people who might otherwise have little opportunity to hear it, and work to close the distance between audiences and opera singers through performance in intimate spaces. The project focuses on operatic repertoire that deals with contemporary issues and is sung in English and French so that audiences can more readily relate to the material.
Now in its third season, The Bicycle Opera Project will be cycling to Kingston, Prince Edward County, Belleville, Campbellford, and to Hamilton, Guelph, Kitchener-Waterloo, Brantford, London, Bayfield, Stratford and Toronto with stops at the Westben, Stratford Summer Music, and Toronto Summer Music Festivals. We work to demythologize the idea of "the opera singer" (we get dirty too!) and operatic traditions (who says we can't cycle?), and provide a car-free alternative to touring.
"As a touring company that gets around on two wheels, the Bicycle Opera Project is all about essentials — getting maximum dramatic impact with a minimum of means." – John Terauds