Alyssa Giammaria and Devon Savas, reunion concert, Sat Aug 10
August Special Concert #2. We will be open for only these special events: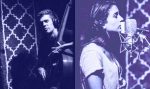 Saturday August 10, 2019, at 8 pm, $10. Alyssa Giammaria vocals and Devon Savas bass. Alyssa and Devon began collaborating as students at Mohawk. Then each pursued further musical studies in other cities. This concert is a hometown reunion. They will be revisiting favourite past selections and venturing in new directions in a one-off genre-boundless performance, with one set as a duo and the second set with a band of special guests: Levi Kertesz (drums), Ian Brown (piano/keys), Michael Morabito (alto sax), and Aoife-Louise Doyle + Stephanie Sloss (background vocals).