MOJO Men of Jazz Octet , Fri May 12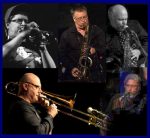 Friday, May 12, 2017, at 8 pm, $15. To reserve call 905-543-8512. MOJO is the Men of Jazz Octet, a group of the area's top jazz players.  The line up for the night: Jeff Plumbley trumpet, Lindsay Paul tenor sax, Darren Blundel alto sax, Don Templeton trombone, Dave Rubicini bari sax (group photo left), plus Marc Girard guitar, Ethan Tilbury bass, and Ken Bower drums. Come on in and get your Mojo on with some great jazz in a truly energetic performance.
Join this exciting group as they explore post-bop to modern compositions by jazz luminaries such as Freddie Hubbard, Bob Meyer, Kenny Dorham and Tom Kubis. Along the way the band will tip their hats to some of the stalwarts of the jazz octet like Dave Pell and Gerry Mulligan.