The Rough & Tumble, Will Gillespie, Daniel Whitener, Wed Apr 5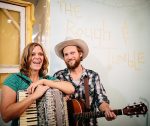 Wednesday April 5, 2017 at 8 pm, $15/$10. A one-night-only music festival of folk, americana, bluegrass singer-songwriters at Artword Artbar. Three sets, headlined by Mallory Graham and Scott Tyler (The Rough and Tumble) on tour from the US, with guest sets by local songwriter Will Gillespie, and visiting guitar-picker/singer Daniel Whitener.
The Rough & Tumble is a two-person, multi-instrumental folk-americana duo Mallory Graham and Scott Tyler. While they consider their beloved PO Box location to be Nashville, the couple has been living on the road with their two dogs for two of their five touring years. The Rough & Tumble delivers each performance with the nudge of an elbow, a wink from the right eye, and the sincerity of Pinocchio after his rehabilitation.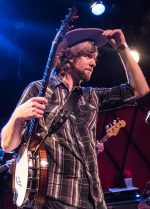 Their 2016 release, Pieces and Pieces, written for the Alyssa Pearson film, delves into themes of women, war, and PTSD. Their February 2017 release, Cardboard and Christmas Lights (Rock Candy Recordings), is a 7-song EP.  www.theroughandtumble.com
Dan Whitener is bluegrass banjo-picker and vocalist from Washington DC, on a solo tour of Southern Ontario with a new CD. He is a member of a number of bands,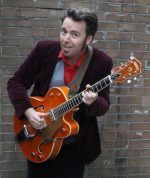 including the ground-breaking Gangstagrass, and Blue Plate Special, Man about a Horse, and Sparrows. http://danwhitenermusic.com/ 
Will Gillespie (photo right) has developed an elegant and eccentric sound all his own. He is a dynamic performer with a diverse catalogue of original songs, from crooner to rockabilly, combining elements of folk, rock & roll and cabaret. Born and raised in South Porcupine, Northern Ontario, Will lives in Hamilton, where he is actively involved in the local music and theatre scene.  https://www.willgillespie.ca/