Jazz vocalist from Japan: Hisaka, w. George Koller, Thurs Mar 23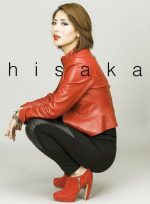 Thursday March 23, 2017, at 8 pm, $15. Japanese jazz vocalist Hisaka is visiting from Tokyo, and will play a reunion concert with noted bassist George Koller. Also playing is Attila Fias on piano. This is Hisaka's first visit to Hamilton!
Currently based in Tokyo, Hisaka visits Canada on occasion for performances to keep active in the world-wide music scene. Hisaka first came to Toronto in 2011 to pursue her music dream and became actively involved in the Toronto music scene, including the appearance of Jazz FM91.1 One Stop Vocal Jazz Safari. Hisaka has released two albums so far, both produced by Canadian luminary bassist George Koller. Her second album, with legendary Canadian trumpet player Guido Basso, combines various musical elements — jazz, classic, samba, rock, R&B, and pop.