Micah Barnes "New York Stories", Fri & Sat, June 3 & 4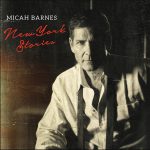 Friday June 3 and Saturday June 4, 2016, at 8 pm. $15 advance / $20 at the door. Two shows!  

Book advance tix online
The fabulous chart-topping jazz singer-songwriter Micah Barnes is returning to Artword Artbar for a two-show run of his New York Stories. His critically acclaimed disc New York Stories (eOne Music) is a personal ode to romance in the City That Doesn't Sleep. Inspired by the classic songwriting of Fats Waller, George Gershwin, Cole Porter and Irving Berlin, this self-penned song cycle takes the listener on a journey through Manhattan's musical history including the Cotton Club, the Apollo Theatre, Broadway and late night jazz clubs.
New York Stories was conceived while Barnes was romancing his partner who was working on Broadway at the Palace Theatre. Their apartment was on Lenox Avenue in Harlem, right on the site of the legendary Savoy Ballroom, and just a few blocks from Apollo Theatre. Micah decided to make the most of the musical and romantic inspiration and rented an hourly piano studio off Times Square to sketch the songs that would become New York Stories. These songs are inspired by the composers writers who created so many of the classic jazz, Broadway and pop songs in those very piano studios.   http://www.micahbarnes.com
Micah Barnes began his career as a teen in the cabarets and jazz clubs of Queen Street West alongside The Parachute Club, Molly Johnson, Holly Cole and Jane Siberry. He joined Canada's legendary a cappella group The Nylons in 1989, singing with them in concert around the globe as well as appearing on three recordings including their Juno-nominated hit single Don't Look Any Further. He spent a decade in Los Angeles developing a solo career where he collaborated with Thunderpuss on the Number One Billboard and international club hit Welcome to My Head and was described by Rolling Stone magazine as "An Indie Artist to Watch."
Returning to Canada, Micah joined Molly Johnson in concert on her Canadian Tour, and, launched an annual residency at Hugh's Room where he performs a Valentine's concert with Jackie Richardson to standing room only audiences. In 2014, Barnes launched "Stand By Me: Soundtrack Of The 60's", a show that features Micah and his musical friends, (including another former Nylon Billy Newton Davis), performing some of the most memorable pop songs of the 60s. The show has become a critical and popular smash taking audiences by storm wherever it plays!