April 28th, 2016
Comments Off

on Stuart Laughton's Radio Dial is back! Friday May 20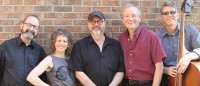 Friday May 20, 2016, at 8 pm. $15.

Book online
The multi-talented trumpeter-singer Stuart Laughton is back with a new edition of his wonderfully eclectic Radio Dial show. He tells us this will be "an almost entirely new program, and will mark a return to Artword Artbar of ace pedal steel guitarist Burke Carroll."
The Radio Dial gang coming to Artword May 20: Burke Carroll (pedal steel guitar), Rebecca Campbell (vocals), Martin Worthy (drums), Stuart Laughton (guitar, et al), and Steve Lucas (bass).