December 6th, 2017
Comments Off

on Review: Veteran raconteur hits right notes in Charly's Piano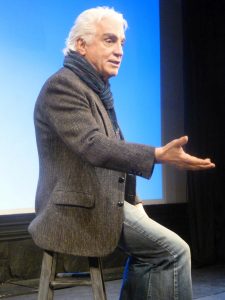 Review Veteran raconteur hits right notes in Charly's Piano
WhatsOn Dec 5 2017 05:26 PM by Gary Smith, Hamilton Spectator
Charly Chiarelli recalls the world of 1970s Toronto in "Charly's Piano."
Want to go back to the early '70s? To a time when Ian and Sylvia, Bo Diddley and Ronnie Hawkins sang at the Concord and other hallowed Toronto halls?
Coffee houses and bars were still the domain of beatniks and hippies back then. Toronto was less sophisticated than it thinks it is today. Possibilities were endless.
In 1972, Charly Chiarelli, born in Racalmuto, Sicily, but raised in Hamilton's gritty North End, found himself wandering the streets of what was once called Hogtown.
He found an attic abode next to a Primal Scream Clinic near Kensington Market. He found a job, too, at Toronto's prestigious Clarke Institute of Psychiatry. Called an observer, he was paid to watch patients. Memories of many of these institutionalized folk permeate his new play "Charly's Piano." Read more…